How to live stream
Scheduling your stream
To start streaming, select 'Schedule an event' from the create video page. If you don't see this option, contact partnersupport@recast.tv to enable it on your channel.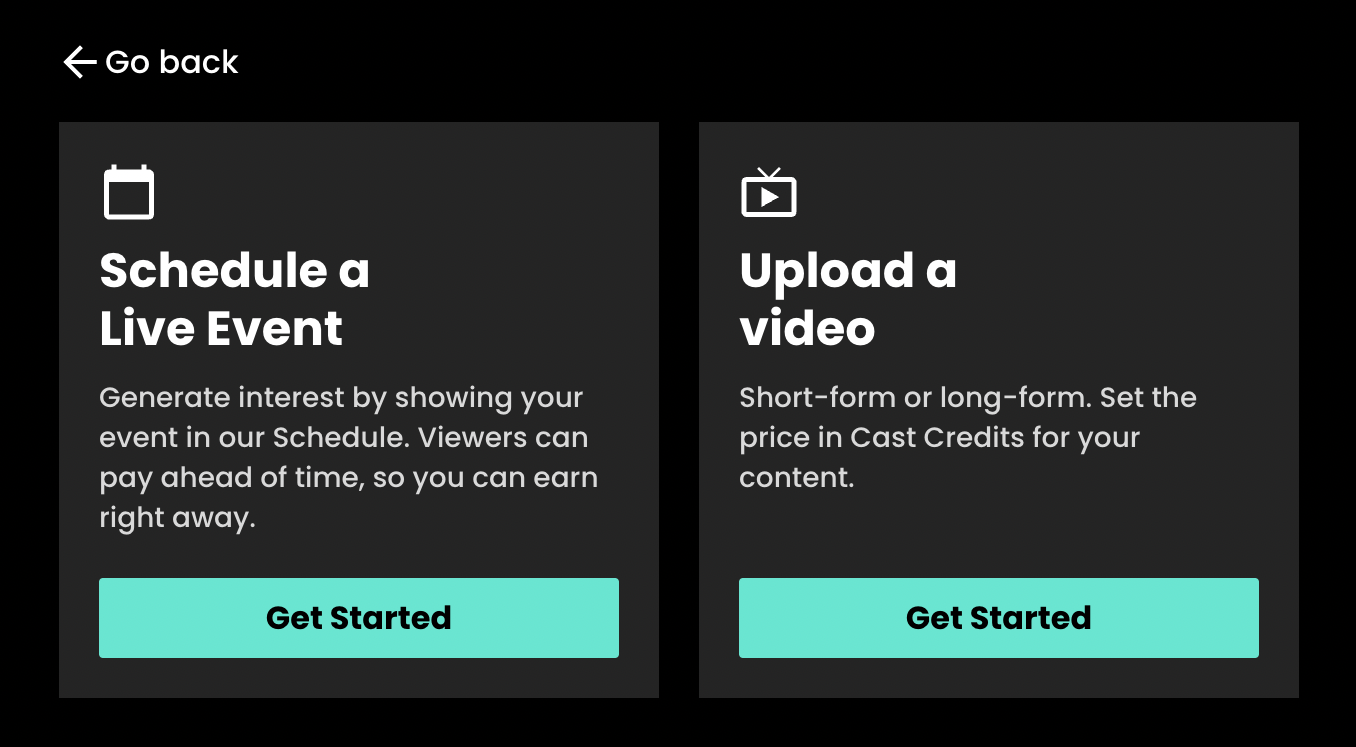 Adding your event details is similar to when you upload a video. You can set the category, title, description, and price. For more details on this click here.
For live events you must provide a thumbnail image and this will be visible to Fans on the live tab of Recast. The live tab is the place where Fans can see upcoming live streams, so an eye-catching thumbnail will help attract viewers. For details on thumbnail specifications click here: [link]. You can also upload a trailer for your stream, up to 30 seconds.
When scheduling an event, you can either choose to go live immediately, or schedule your event for a later date.
Connecting your stream
If you've scheduled the event for later, find it on your Publisher page and select 'start streaming' to load the stream setup page. Or you will be taken straight to this page if you choose to start your stream immediately. For most people, select 'Create a URL'. This will provide you RTMP details to enter on your end. If you happen to be using your own streaming server, select 'Use your own URL'.
Note: If you've selected 'Create a URL', please note this may take up to a minute to generate the RTMP details.
The URL and stream key can then be entered in your encoder to connect things up. It usually takes around 30-60 seconds for your stream to connect. This may take longer if you have DRM enabled.
Starting your stream
Some streaming platforms automatically start your stream when you connect the RTMP, but on Recast you must click the 'Go live' button to start the stream. The stream will then go live immediately to your fans.
Once the stream is live, you can close this page. You can return to it at any time in Recast Publish. Find your stream in the 'live events' tab. Click 'manage streaming' to return to where you where. Or if you just need to view the stream itself, choose 'view'. You can then view it as an admin or in the fan app.
Digital Rights Management (DRM)
If you need to make your videos unavailable in certain countries, it's very easy to edit this. After setting the price for your video, you can change the country availability. This can then be edited later too, if you have limited time geoblocking deals.
For an up-to-date list of the countries Recast are available in, see here. You can also set a default list of countries you want your content available in, so you don't have to edit it on each upload.
Starting a previously scheduled live stream
Live streams scheduled for a future date/time can be accessed via the 'Upcoming' tab in the Live events' section. 'Start streaming' will take you to the stream page to start the steam. The scheduled time/date and thumbnail can be changed via the 'edit' function.
Streaming Specifications
Streaming Protocol
RTMP
Resolution
We support resolutions up to 1080p 16:9. We suggest streaming at one of these standard resolutions:
1920×1080
1280×720
960×540
640×360
Frame Rate
We support input frame rates up to 60fps.
Video Bitrate
For most HD quality streams we suggest between 3 and 6 Mbps for the video Bitrate. Here is some more detail:
| Resolution | Low frame rate (24-30 fps) | High frame rate (48-60 fps) |
| --- | --- | --- |
| 1920×1080 | 4.5 Mbps | 6 Mbps |
| 1280×720 | 3 Mbps | 4.5 Mbps |
| 960×540 | 2 Mbps | 3 Mbps |
| 640×360 | 1 Mbps | 2 Mbps |
Bitrate Control
CBR (Constant bitrate)
Profile
We suggest using the main or high profile based on your output resolution and frame rate.
| Resolution | Low frame rate (24-30 fps) | High frame rate (48-60 fps) |
| --- | --- | --- |
| 1920×1080 | High | High |
| 1280×720 | Main | High |
| 960×540 | Main | Main |
| 640×360 | Main | Main |
Audio Bitrate
128 kbps
Audio Channels
Stereo
Scan Type
We only support progressive scan on streams. You can stream using an interlaced feed but we are unable to deinterlace a stream input, so artefacting will appear.
Stream Length
Up to 6 hours. If you need to stream for a longer duration, please reach out to techsupport@recast.tv and we can discuss solutions.
Troubleshooting
Why can't I see the option to start streaming yet?
Due to the fact that each stream on your channel is its own event, they each have unique RTMP details. You can get the RTMP details for a stream up to 3 hours before the scheduled start time of the event.
Why isn't the preview loading on Recast Publish?
It may take around 60 seconds for the stream to connect from your RTMP. Its possible you may need to give it some more time. You can always refresh the stream preview screen without issue. Its worth trying this to get the preview to appear.
Why can't I see the stream on the fan site?
Do you have geoblocking enabled on the event? In some cases you may be streaming to other countries but are restricted in the county you are streaming from. In this instance, the stream will be blocked on the fan site but you can still view it from Recast Publish by clicking the 'view' button next to the event.
I've accidentally ended my stream early, what can I do?
Please contact the on-call tech op using the number you have been provided. We can reset a stream and get you up-and-running again.
I'm seeing the error 'MediaPackage' not created (or similar). What do I do?
Please contact the on-call tech op using the number you have been provided. We can aid in getting you up-and-running again.