How to upload your content
How to Upload
Click the 'New Video' button from the toolbar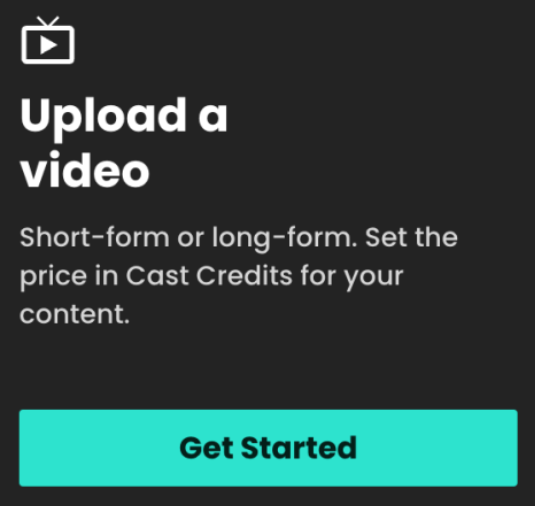 Follow the onscreen guide to upload your content.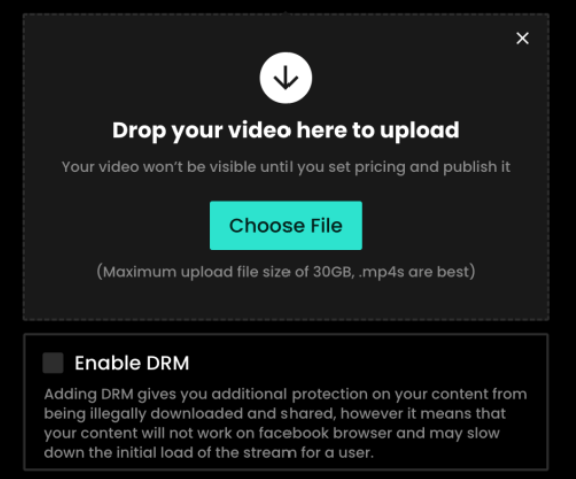 Video Details
You'll be required to fill out some basic information about your content. Catchy titles and descriptions will help users find your content and encourage them to purchase it when they do!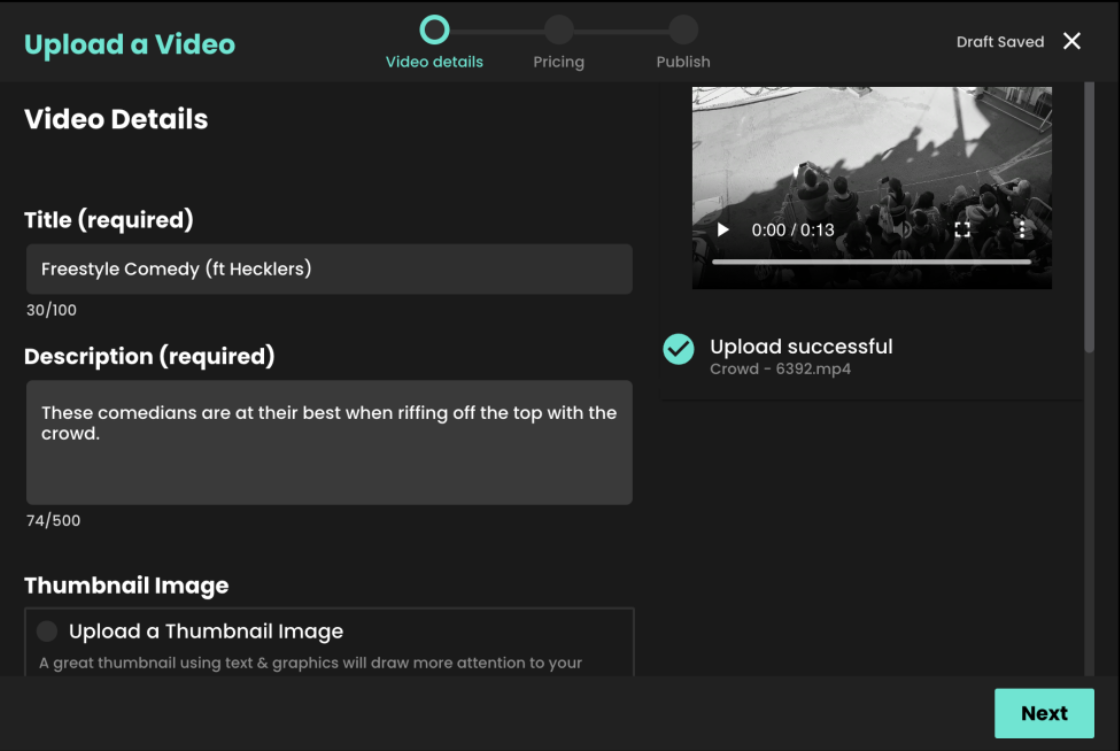 Thumbnail, Trailer, and Categories
You can either upload a thumbnail image, or simply select a still frame from your video.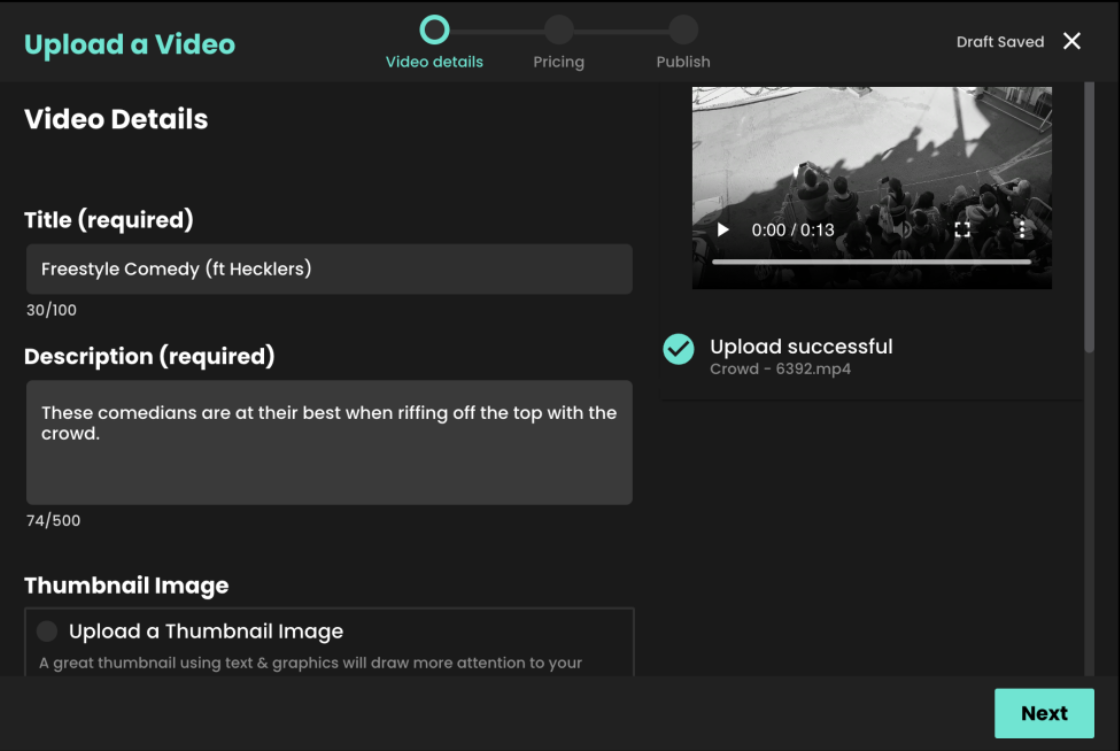 You can also upload a 30 second trailer for your video – selecting from your video file OR uploading a separate video trailer. Trailers can be watched without purchasing a video and should be used to encourage fans to purchase your content.
Trailers are shown on the homepage, when hovering over a thumbnail, or when a fan clicks a link you have shared on social media, they are a great way to attract new viewers to your content.
Categories also make it easier for fans to find your content. A minimum of one category must be selected when uploading videos. If a suitable category is not available, you can suggest a new one.
You'll be asked if your content contains any advertisements. If it does, you'll be asked some follow-up questions to determine the suitability of the advertising content for both audiences and the platform.
Select the countries you want to make your content available in, ensuring you hold the rights for the content you are sharing in those territories.
Set the share value for your content. This is the percentage of the video price that you will share with fans when they share a link to your content that results in an additional purchase.
Splitting your earnings allows you to share earnings from the video with another publisher. Use this when collaborating with another publisher on a piece of content or if you need to share earnings with a partner.
Publishing Your Video
You'll now have the choice of how you publish your video with 3 distinct options:
Publish automatically after upload finishes This will make your video live as soon as it completes uploading, provided you have selected the 'publish now' button.
Publish manually later This will save the video as a draft and allow you to publish from the 'unpublished' tab in the video uploads section later.
Schedule publish time If you want your video to be available at a certain time use this option to publish at the date and time you choose. For time sensitive or restricted content you can also set an end date/time to unpublish the video.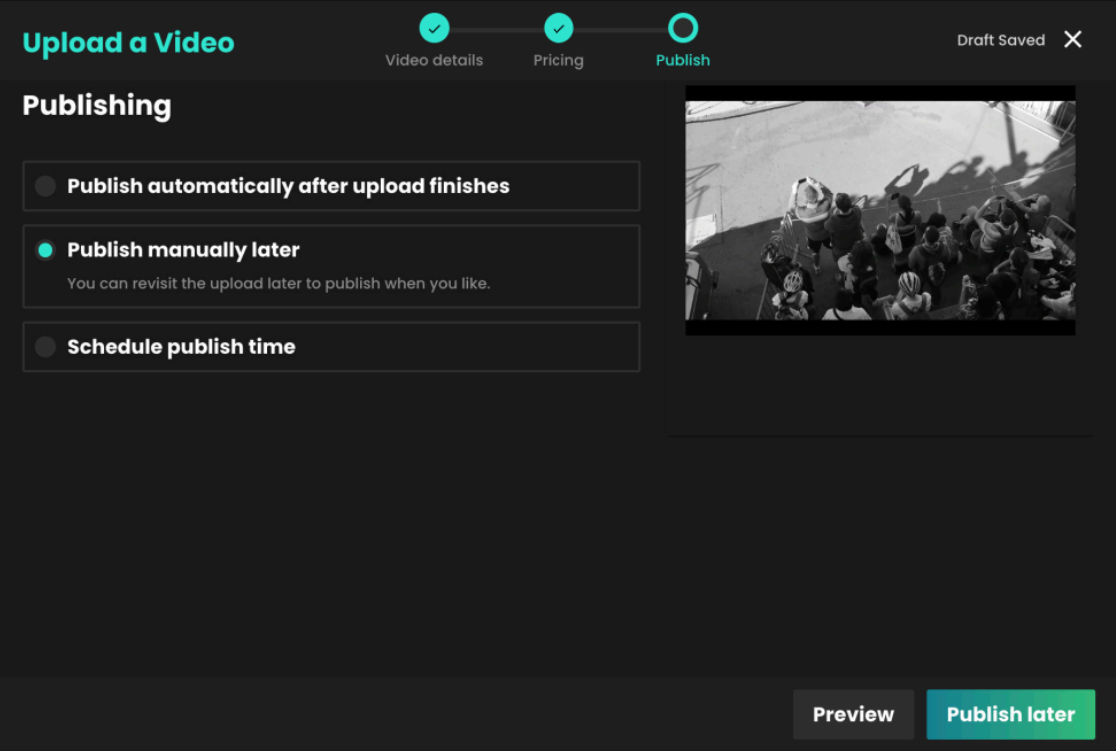 Digital Rights Management (DRM)
General Video Upload Information
The time it will take to upload your video depends on how large the file size is, and the speed of your internet upload speed. Make sure not to close the platform when you are uploading, as this will interrupt the upload, and you will have to repeat it.
Once uploaded, the video will show as processing. Please note it can take up to 40 minutes to process 1 hour of video, depending on your upload speed. This is so we can create HD, high, medium, and low quality versions.
Once you have finalised your video upload – it can be accessed via 'Video Uploads' button where you can edit, share & view your video.
Please note: If you try to close the Upload a Video form before the set up has completed, you will be asked to discard or save the Video Upload Draft. If you choose to save the draft, it will be available on the Unpublished Video Uploads list which is found in the 'Video Uploads' section. If you choose to discard, the draft will be permanently deleted.
Technical Video Specification
File Type
.mp4 (recommended)
.mov (recommended)
Video Codec
h.264 (recommended)
h.265/HEVC
Audio Codec
AAC
Resolution
We support resolutions up to 1080p 16:9. We suggest these standard resolutions:
1920×1080
1280×720
960×540
640×360
Aspect Ratio
We support both 16:9 landscape and 9:16 portrait resolutions. If your video doesn't match one of the above aspects ratios, we will pad the video with black bars.
Frame Rate
We support constant frame rates up to 60fps. Here are some standard frame rates we would suggest using:
Note: You may encounter difficulties when uploading content with a variable frame rate. If you receive a "processing failed" error when uploading variable frame rate content, we suggest converting this to constant frame rate and try the upload again.
Many iOS devices have variable frame rate enabled on their camera by default, we suggest disabling this if you encounter issues uploading video shot on iOS devices.
Video Bitrate
| Resolution | Low frame rate (24-30 fps) | High frame rate (48-60 fps) |
| --- | --- | --- |
| 1920×1080 | 8 Mbps | 12 Mbps |
| 1280×720 | 5 Mbps | 8 Mbps |
| 960×540 | 2 Mbps | 4 Mbps |
| 640×360 | 1 Mbps | 2 Mbps |
Audio Bitrate
128 kbps
Audio Channels
Stereo
Colour
We currently only support SDR videos. For these please use the standard BT.709 colourspace
Scan Type
We currently only support progressive scan video. You can upload interlaced videos but we are unable to deinterlace these.
Video Length
Up to 6 hours. If you need to upload longer duration videos, please reach out to techsupport@recast.tv and we can discuss solutions.
File Size
Up to 30 GB
Subtitles
Not currently supported. If you require subtitles on your video, we suggest burning these into the video itself.
Troubleshooting Video Issues
Why did my upload to Recast Publish not complete?
Most likely this was due to an interruption to your internet connection. Please try uploading the video again. If the issue persists, please check a few things:
Is your browser up-to-date?
Please try using Chrome or Firefox on PC, Safari or Firefox on Mac.
If your issue is occurring on Chrome for Mac, we suggest trying another browser.
If you are still encountering issues, please reach out to our support email
Why does my video say 'failed processing'?
It's possible there is an issue with the file you are trying to upload. Please follow these steps:
Does the video play back correctly when viewed offline?

Try a common video player (we suggest VLC) and scrub through the video.
If there are blank frames or the video stops playing before the end, there may be an issue with the file.

Does the video conform to the specifications we've listed above?

In particular, please check whether the video is variable or constant frame rate. Variable frame rate videos may fail processing.
If you are still encountering issues, please reach out to our support email.