Like Patreon, Recast is a platform designed to support content creators to monetise their content effectively. Both platforms offer creators the freedom to produce the content they want to make for their audiences, rather than having to modify their content to meet the requirements of YouTube's restrictive algorithm. But what key benefits does Recast offer content creators over Patreon?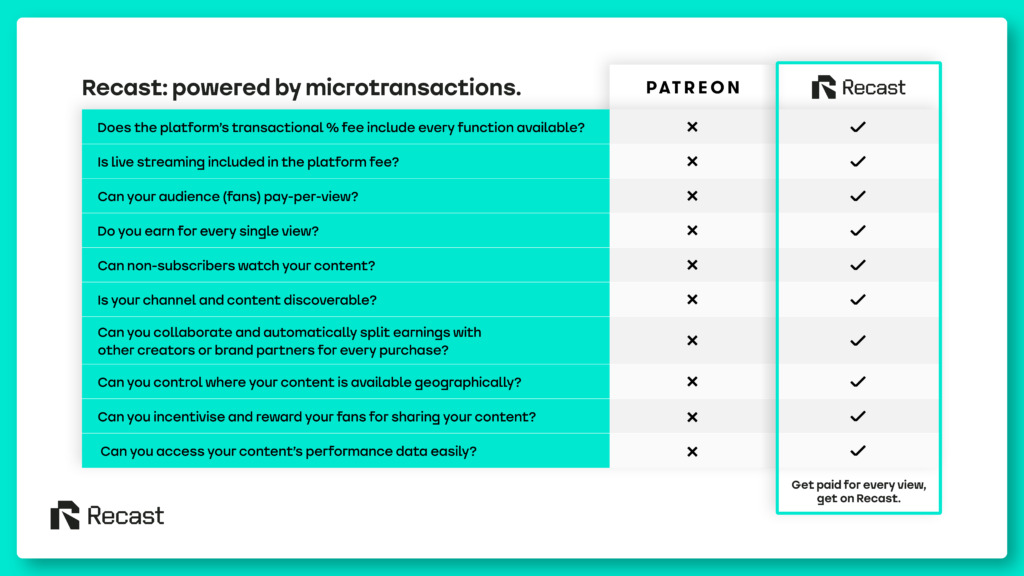 Earn for every single view
Unlike Patreon's subscription model, Recast is subscription free. Fans pay for the content they want to watch, which means content creators get paid every time a piece of their content is viewed.
Discoverable content
On Recast, channels and content are discoverable, which means creators can broaden their audience beyond the restrictions of Patreon's subscription model, tagging each piece of content they post with relevant content categories to reach new fans. Content can be featured and previewed on Recast, and relevant channels will be recommended to fans based on their viewing preferences.
Powered by microtransactions
Recast's platform is powered by microtransactions. Fans purchase content using Cast Credits, Recast's unique in-platform currency. Casts can be purchased at any time, and can also be earned by watching ads, sharing content and data, and inviting friends to join.
Live stream for free
While users need to use YouTube or pay a subscription to Crowdcast to live stream on Patreon, on Recast there are no additional charges for live streaming. Scheduling a live stream on your Recast channel is quick and easy to do, and just like on-demand content, you'll retain up to 85% of the revenue generated every time your content is purchased.
Collaborate with other creators
Recast provides unique functionality for collaborating and splitting earnings with partners through smart contracts. Whether you are streaming a live event or uploading a piece of collaborative content, you can easily set percentage splits between up to three publishers on Recast at any time. Once you have set a split, earnings will be split automatically according to the percentages you have agreed.
Incentivise fans to share your content
On Recast, you can make your content work harder for you by incentivising fans and other publishers to share it. Set a 'share value' for fans when uploading or scheduling a piece of content and they'll earn Cast Credits every time your content is purchased via a link they've shared. Do the same for publishers and they will earn real world currency.
Find out more about how Recast can support content creators to maximise their revenue here.
Ready to join Recast?
Complete the form to express interest in having your own Recast channel.